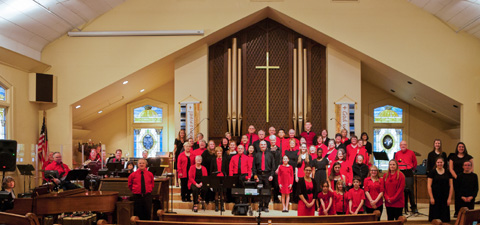 From the director
Thank you to all the members, friends & family of the Community Cantata Choir for an "outstanding, above-and-beyond, to God be all the glory" season! Your outpouring of generosity and spirit, commitment and passion, was overwhelming! In a word, this season was … Special! Blessed! Wow! Holy! SRO! Extraordinary! Magical! Humbling! Anointed! The Community Cantata Choir was pumped up full of adrenalin and the Holy Spirit!
Thank you for the commitments and sacrifices you all made in your households so you could participate! Thank you, too, for the support of Prayer Partners, the media which spread our message far and wide … to sound man Dan and webmaster Mark. We are so extremely proud of and humbly thankful for all: the senior Choir, Youth Chorus, ASL Choir, orchestra, narrator and others who were involved in any way.
In the end, at the conclusion of our nine-program season, "A Merry Clydesdale Christmas: Joyful Sounds of the Season" was presented in nine locations over 22 days, in front of more than 1,265 people & raised more than $15,035.42 to help feed hungry local friends, family & neighbors! During programs in our past 11 seasons, about $95,000 has been contributed to fight local hunger via the ministry of this Choir!
The ministry of this Choir, video-recorded at St. John Lutheran in McMinnville, extended our season on Comcast 11 and Frontier 29 for those who could not hear us live. The video is available from McMinnville Community Media (www.mcm11.org). Much more information about the Choir, photos from this and previous seasons, remarks from Choir and audience members and recordings of what the Choir has done are available elsewhere on this website.
Please stay tuned and tethered as we begin to anticipate our next season!
~ Joyfully and humbly serving, Linda and Lee Schrepel … directors