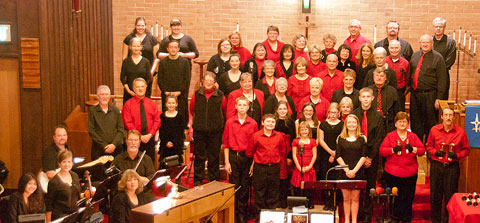 From the director
This has been a wonderful 25th anniversary season! Thank you all so very, very much for your sacrifice, commitment, enthusiasm and passion as the Christmas Story was shared from your hearts these past many weeks.
Thank you for your generosity, too! Slightly more than $12,400 was contributed to serve local food banks! That's a new record! These past ten seasons have resulting in food bank offerings through the Choir of more than $80,900!
Please stay in touch with us. Watch this website for what's next … when and where. Mark your new 2013 calendars for our rehearsal on October 7 (the Monday evenings of October and November; the Saturday mornings of November).
Thanks again for your hard work, instrumental gifts, healthy voices and smiling faces! We're already looking forward with anticipation to the 2013 season (two churches have already issued invitations and marked their calendars)! Praise be to God!