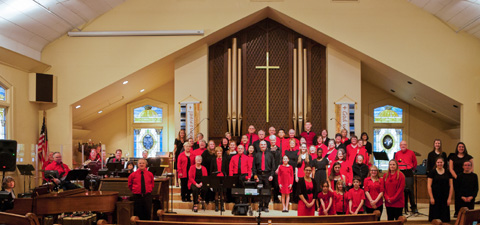 From the director
The 2014 Community Christmas Cantata Choir is excited to announce our one hour presentation of "Joy, Joy, Joy". This choral cantata, presented in our 28th season, was created by David Clydesdale, and blends narration with a collection of Christmas music in contemporary and traditional styles. The upbeat and moving music should appeal to most tastes and ages.
ALL performances will be interpreted in American Sign Language (ASL) for the hard of hearing. Performance arrangements include:
This schedule may be impacted by inclement weather. If in doubt, contact the church or the director to confirm a performance after noon on the day of the anticipated performance.
There at least 70 people involved in the over-all production, including the 48-member, five-part, non-denominational senior choir, a youth chorus, instrumental musicians (piano, synthesizer, percussion, electric bass, guitar, trombone, trumpet and cello) and narrator. Many faith traditions are represented from more than half a dozen communities in half a dozen counties and two states. Since 1987, this group has assembled annually in early October solely for the purpose of preparing its Christmas cantata. Several soloists and small ensembles are involved. All participants are volunteers and pay for their own materials. The director of the group since 1990 has been Lee Schrepel of Yamhill, choir leader at Joyful Servant Lutheran Church, Newberg, and former choir director at Trinity Lutheran Church, McMinnville. The piano accompanist is Dardie Robinson of Aloha.
Several in the choir are extremely sensitive to fragrances, so audience & congregation members are encouraged to be as "fragrance-free" as possible.
The public is invited and will be warmly welcomed. Hosting congregations are asked to offer refreshments and child care, and all will receive a free-will offering in support of YCAP's Yamhill County Food Bank & Homeless
Shelter Programs. In this manner, over $95,000 was raised during the 2003 through 2013 cantata seasons! Contact Lee or Linda Schrepel (503-662-3926), any of the hosting churches or the choir's website (www.CantataChoir.org) for supplemental information. Individuals wishing to participate in the 2015 cantata should give the Schrepels an email address or a stamped, self-addressed postcard at one of the performances and watch local newspapers, church bulletins and the choir's website for organizational information next September. Individuals and organizations wishing to assist future choirs financially should also contact the Schrepels.
~ Joyfully and humbly serving, Linda and Lee Schrepel … directors