Season ending message from our director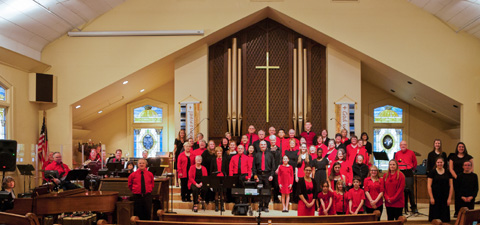 Dear friends,
Every season, for 29 years, seems have been extraordinary in some way, but this season seems to have been even more remarkable.
This (1,210) was not our season with greatest attendance. It's pretty difficult to match the 1,895 from 2003 when our largest venue involved an audience of 675.
It was our season with the most generous offering by far! As I prepare this, the offering is still being counted as additional contributions to YCAP are being received. The final total is $19,809.74 which is about 30% greater than ever. Certainly this is the work of the Holy Spirit! Thank God for the opportunity to be a part of the process that created opportunities for all these givers!
Our 2015 season was definitely one marked by involvement & ownership! You stepped up & stepped in to make this truly YOUR Community Cantata Choir. Much like the season when the Choir self-funded the sound system & initial trailer, you totally bought in to our mission. We are extremely grateful for the many who took on new responsibilities this season, in ways that made the Community Cantata Choir a stronger organization.
It has also been a season of tremendous musicianship! Your recordings & comments from audience members confirm your presentation connected & you delivered! You gave the music the personality, enthusiasm, intensity, authenticity & credibility it needed to deeply touch the hearts of our listeners with the Christmas Story in a very beautiful way!
Easily a highlight of this season has been the Yamaha digital stage piano system given to the Community Cantata Choir by the Snowman Foundation! This honors the founding of this group which originally set out with local voices to sing & tell the Christmas Story in local churches that lacked their own choirs. Almost from the beginning, the non-denominational, cross-generational Choir took the Christmas Message into secular venues, & that effort has continued to this day. It also recognizes the intentional & growing involvement of youth in our program & our important ministry supporting the Yamhill County Food Bank. The Choir will forever be grateful for this wonderful gift!
A couple weeks ago, we opened the mail to find a check to the Choir (not to YCAP) for $1,000! It was from a 'retired' member of the Choir who'd been similarly generous with YCAP this season. This is amazing! After upgrading our trailer & buying quite a few replacement & repair components for the sound system, the Choir's bank account is 'whole'! Thanks be to God & to God be all the glory!
Other partnerships which evolved & blossomed this season include our relationship with YCAP, serving within their umbrella of programs in order to benefit from their liability insurance, & our rehearsals in the cafeteria of Yamhill-Carlton High School. Learning last spring that we'd have to find a new rehearsal venue felt like a difficult & awkward moment in the Choir's life. It became a blessing as we put to good use Y-C's grand piano which had been a Snowman Foundation gift several years ago. All these moving parts working together remind us all the more that we're the COMMUNITY Cantata Choir.
We love you! God bless you all! To God be ALL the glory!
Lee & Linda