End of season message from our director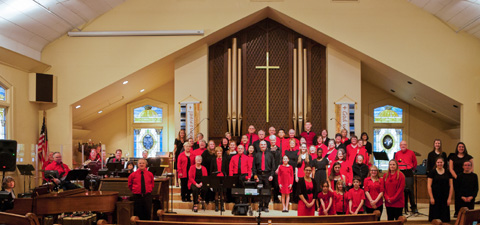 Dear & wonderful friends,
The final program of our 28th season was a tremendous & joyful celebration for us. This will definitely be a season to remember! So much about it has been wonderful. A holy nudge here. A thoughtful kindness there. Every one of you is a huge blessing. Being able to involve three generations of our family has been a thrill for many seasons.
The offerings have been generous ($14,240+ this season brings our 2003-14 food bank offering total to about $110,000). The audiences (about 1,079-strong) have been appreciative. We've heard many times how the passion & faith of the choir is vividly expressed! As we frequently tell audiences, each new season, every new choir, is a huge gift waiting to be unwrapped! It's a new community that will gradually develop.
One of the beauties of this organization is that we come from far & wide, cross-generationally & non-denominationally! As we separate, let's stay in touch. Please continue to support, uplift & love each other. Pray for us & for each other & how we continue to express our faith & live our passions during the off-season. Share your concerns among us because we care. Thank you for your patience, support, sacrifice & passion! We very much understand your individual commitment stands upon the commitment of your entire household. Please share our thanks with your loved ones for their sacrifices these past nearly three months. God bless you all. Every one of you! Be patient. Listen quietly. Wait for God to amaze you!
May you each sense HOPE, PEACE, JOY and LOVE from our Lord and Saviour every day! Live it boldly & abundantly! Merry Christmas! (More cow bell!)
Linda & Lee