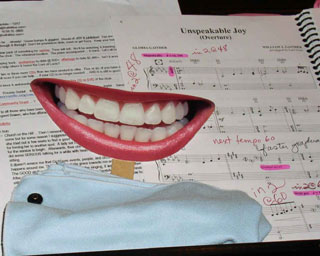 Nov 2, 2017 message
Dear all,
I appreciate your hard work! You sound so much better week-to-week! I appreciate the addition of our mini-orchestra & look forward to the acoustic guitar, narrator, ASL Choir & Youth Chorus!
NOTE: the balance of our rehearsals are all at Joyful Servant Lutheran Church (JSLC), 1716 N Villa Rd, Newberg.
See the Rehearsal location page for details.
Drummer Mark & I will breakfast at 7:30am on Saturday at J's in Newberg. You're welcome to join us there.
I'll open the church for set-up at 8:30am. For now, set-up begins 1hr prior to rehearsal. Starting 11/18, set-up begins 90min prior to rehearsal. Youth Chorus WILL gather & rehearse this Saturday & this coming Monday at JSLC for at least the 1st hour of the adult choir session.
There's been no change to our schedule (see home page), but I've adjusted the names of those anticipating absence.
Promotion:
Pocket posters we be ready for you on Saturday.
Flyers will be available soon.
Tell your story to others! People come to hear & see people who share their story!
Attire for our programs will be as in years past (see photos on our website [www.CantataChoir.org] for examples): red & black, as plain (avoid patterns & sparkles; accessories [such as ties, jackets, sweaters, vests, scarfs, etc.] that are plain red or black are fine) as possible.
Congratulations:
Pianist Dardie has a new grandson!
Tenor Jordan has been named 'Oregon Small Schools Teacher of the Year' for 2017-18!
Please, please, please re-read at least the 1st email (10/30) to remind yourself of details such as prayer partners, fragrances, arrival times, use of risers & audio, & encouragement to involve strings & brass.
God bless you all! See you all Saturday (except Kellie, MarkN & SusanJ).
Lee & Linda