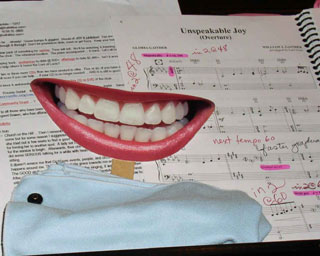 2016 season kickoff message
Dear friends of the Community Cantata Choir,
We're excited to share that the 1st rehearsal is just 2 weeks from now! Further, we are totally excited & enthused about celebrating our 30th season with "A Merry Clydesdale Christmas"! We presented this choir & community favorite in 2013.
In deciding to present an "encore" season, we listened to literally dozens of cantatas, comparing them with the specifications that have evolved over the decades (about an hour long, upbeat with new & old songs [but definitely not just a collection of carols], narration of the Christmas Story but not a "musical" with acting roles, SATB, solos for men & women, song[s] for children & moderate over-all difficulty).
Our e-mailing list has been cleaned up some, so we hope to reach about 220 of you without many duplicates.
Who IS IN? Please firmly express your commitment with an email now & promptly send a check now payable to "Cantata Choir" to the address shown below! (We cannot spend choir funds to order materials without a firm commitment because they can't be returned to the publisher for a refund.)
$20 = Participant only; no songbook, rehearsal trax, listening CD or orchestration needed.
$30 = Participant + only songbook.
$25 = Participant + only rehearsal trax.
$35 = Participant + songbook + rehearsal trax.
$30 = Participant + only listening CD.
$45 = Participant + songbook + rehearsal trax + listening CD.
$30 = Participant + only orchestration.
No charge = Kids Chorus
Who does NOT need a songbook & / or rehearsal trax CD? Who's NOT in but CAN contribute a used songbook? If you're new to the choir, please reaffirm your interest with an email & remind us of the part you sing. Whether you're participating or not, can you contribute to help others be involved who can't afford to pay for materials?
Rehearsals, as of now, will be in the Y-C High School cafeteria on the stage like a year ago, starting on Monday, October 3, at 7PM. As usual, rehearsals will be all Monday evenings in October & November, & all Saturday mornings in November.
We have three invitations in the hopper (12/4, 12/7 & 12/18) & are anxious to hear from other churches / organizations that want to host this season.
Mark has been re-vamping the website (cantatachoir.org), so take a look & let us know what you think.  He says it will be more friendly for use with mobile devices.
Walt has built another pod of risers, & has repaired & painted all the risers, & Bob has the heavy, awkward, folding set of metal risers for sale.
YCAP has continued supporting us inside their insurance program so the school district will allow us to use school facilities, as long as we don't conflict with school activities. YCAP will take a greater partnership role in the form of marketing. They recognized that every seat in every audience needs to be filled!
We're working with a firm with which we do business to see if there's a chance for matching funds. Please look into a parallel course wherever your work, worship & affiliate yourself to see how else the community might support our ministry to hungry souls & stomachs.
We'll see you soon! As always, we're looking for new voices, instruments, passion & commitment!
Lee & Linda